CARL " CRUSH" FOSTER
CFO | EXECUTIVE CHEF | HEALTHY LIFESTLYE ACTIVIST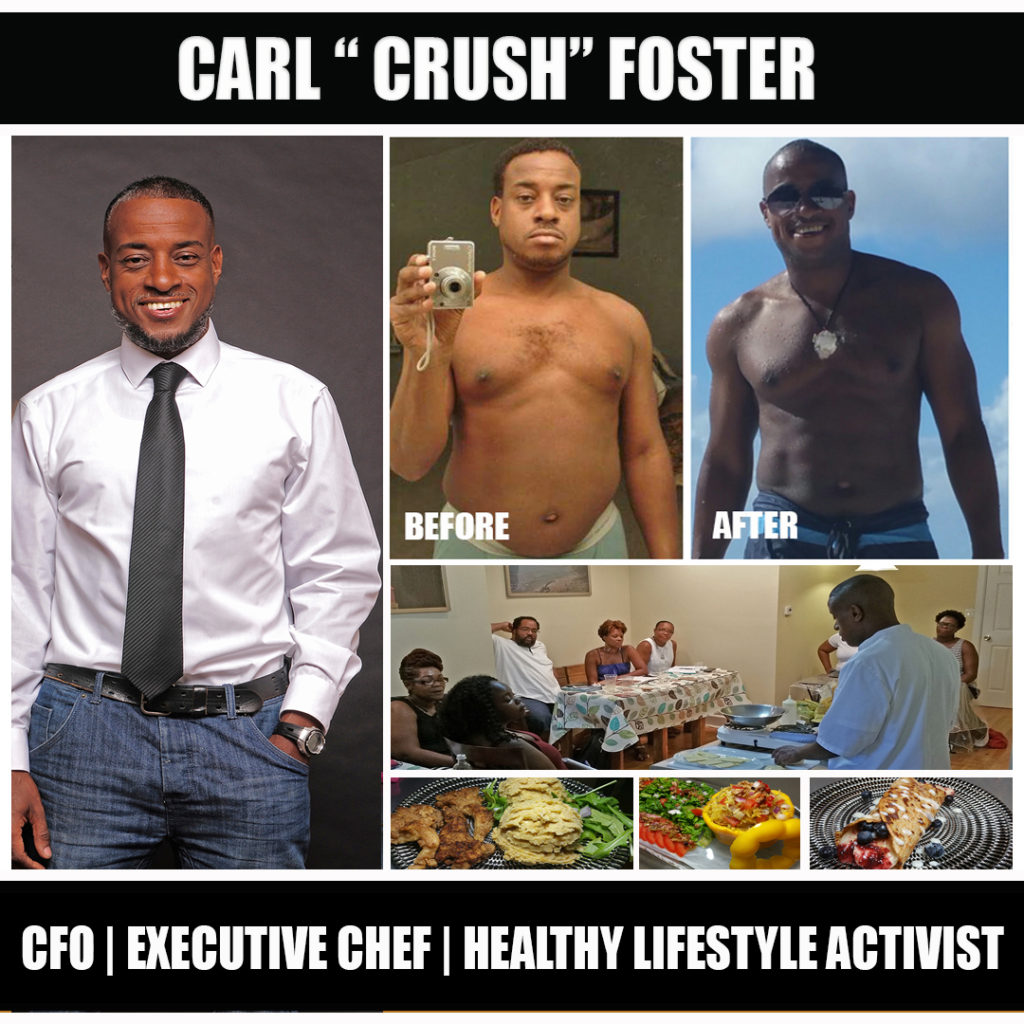 "ONCE YOU MIMIC TASTE AND TEXTURE, HEALTHY EATING IS JUST AS SATIATING AS ANYTHING ELSE"
I was considered "fat" 13 years ago which was a shock to this former high school life guard. Like many out there, I was addicted to sugar. While visiting a friend, I was introduced to juicing and after that first cup, I was hooked. Freeing my body of toxins and creating juices for my friends and family was just the kick I needed to drop the pounds of fat..and sorrow.
After being asked to create juices for a major barbershop in my Californian neighborhood, I had a eureka moment. Could it be possible for me to create a company that made juices with love, and help others in the same position I had been in? On that day, Juice Hugger LLC. was born.
I put fear aside and jumped on a plane to New York in 2009 to creating the infrastructure for Juice Hugger with Kelly Keelo.
13 years later and almost 60 pounds lighter I feel an overwhelming sense of gratitude every time someone tells me how much our Brooklyn Cafe (Juice Hugger's A Healthy Crush) changed their life by introducing them to detoxing, healthier food selections, or through the consultations we provided to our customers.
Our company entered the next phase of our business with the close of our Brooklyn cafe in October 2015. We officially renamed our company A Healthy Crush to incorporate all the various elements of our business. Our new focus was the creation of our lifestyle brand, Alkaline Eclectic, as well  educating our clients about the benefits of the African Bio Mineral Balance  healing modality.
 We have independently published our guide, Mucus Free Food Detox, which offers step by step instructions on how to eat using Dr. Sebi's Nutritional Guide as well as 2 cookbooks in our Beyond Vegan series , Beyond Vegan | Chickpeas and Beyond Vegan | and An Alkaline Holiday. These cookbooks focus on alkaline non hybrid food creation that is simple and tasty.  We also offer eCourses,   workshops, cooking classes and A Healthy Crush Pick Up Events. Man, I'm so excited for the evolution of our brand. Helping people help themselves – its an amazing passion that has changed my life.
Follow me on IG @ Crush Foster! Remember, you don't have to change the menu, you just have to change the ingredients.